OUR PRODUCTS
Times change... Great products remain.
If you've been directed here, you may likely be a loyal user of Porc-A-Fix (and High-Temp Porc-A-Fix) repair glazes for porcelainized and enameled finishes, of Porc-A-Filler porcelain repair filler, of Laminate-Fix, or perhaps Fib-R-Fix filler for fiberglass, acrylics and other plastics.

The good news is, we will be producing these few fine products under the company name of Fixture-Fix. We've employed expertise from the family who created them so that the formulation, quality and exact color match equal what you've come to expect. And we will continue to produce these glazes and fillers in the USA. These include the Porc-a-Fix family of repair glazes:

...And our line of supporting fixture repair products (Porc-A-Filler has become Fill-A-Fix):

We are designing a new website for Fixture-Fix, featuring easy-to-use tools to help you select your exact color and place online orders. In the interim, we will gladly fill orders manually for our customers, using one of the options below.

You can contact us:

By Email:

To place an order: orders@Fixture-Fix.com - Please include your name, preferred phone number and preferred contact time. We'll contact you to fill your order.
To ask our staff a product-related question: info@Fixture-Fix.com

By Phone: 1-718-Fixture (349-8873)

Our Live US customer support phone hours are Monday-Thursday 12:00 - 5:00 EST, call Nancy

Online: The complete Fixture-Fix product line is also offered by DPF Plumbing.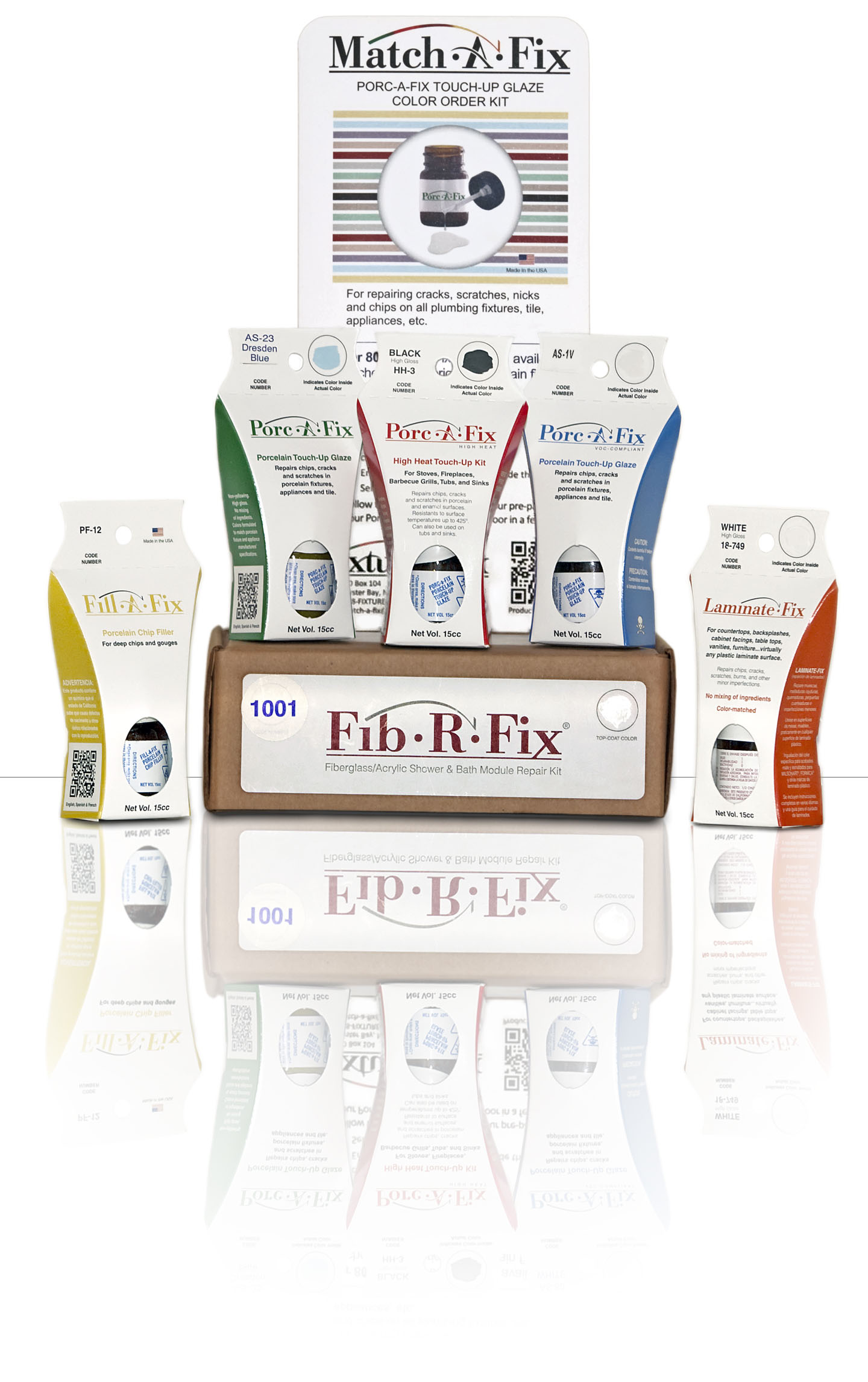 We create color-matched glazes for most colors of kitchen and bath fixtures - old or new - from the fixture manufacturers/designers listed below:
Admiral, American Standard, Artesian, Bootz, Borg Warner, Briggs, Caloric, Crane, Eljer-Murray, Geberit, General Electric, Gerber, Julien, Kilgore, Kohler, Mansfield, Nationaline, Niagara, Norris, Peerless, Rheem-Richmond, Rohl (Shaws and Allia), Tappan, Toto, Universal-Rundle, Villeroy & Boch, Vintage Tub & Bath, Westinghouse, Whitehaus Collection